Integrating Holistic Lifestyle into Daily Life with Sarabeth Rings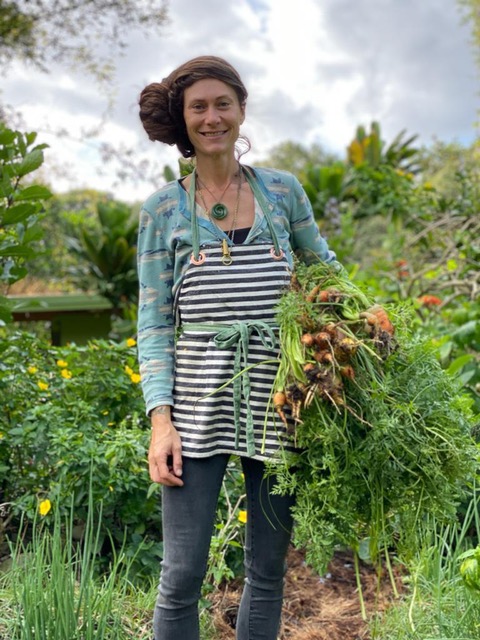 FOUR DIFFERENT CLASSES!
1.  Introduction to organic farm life (February 12, 2021)
2.  Food, farming and microbes (February 26, 2021)
3.  Whole Food integration (March 12, 2021)
4.  Salads and Dressings (March 26, 2021)
Sarabeth Rings is an organic farmer.  Living on the remote east side of Maui is where she learned to grow food, cultivate healthy soil, and create simple meals that nourish the body and delight the senses.  Her belief that life should be fun, delicious, and nourishing shows up in all ways of her life.
Sarabeth grew up in a small town in upstate NY, since then has lived all over the world including Canada where she received a degree from Dalhousie University in International Development.  After university she moved to South Korea, which expanded her understanding of food, wellness and immersion of diet into ones life.  Spending much time traveling and enjoying food in Mexico and Central America she settled down in the central Pacific islands of Hawaii, to be closer to family, which Sarabeth has called home for over a decade.
Currently Sarabeth is manager of Laulima Farm, which she co-managed and co-created with her husband Josh.  In 2019, Josh died from a terrible accident which forever changed the future for Sarabeth.  Since Josh's passing, Sarabeth has fully committed to taking care of the farm on a new level.  Simplifying, and focusing on what is nourishing to maintain both the health of the land and also for the healing of her heart, was the first step in moving forward from her immense loss.  
Realizing that health comes from loving what one does as well as what one puts in the body comes naturally to her.  Sarabeth loves sharing her knowledge with those around her and drawing in others to see how full life can be if we live the life we truly want.   This starts with the basics.  FOOD.  
Sarabeth regularly manages a farm crew, where she guides folks in methods of how to grow food organically and how to prepare the food that is grown off the farm.  In her catering business she focuses on using whole foods and ingredients from local farms.  By seeing the response from her clients, she has realized that making food for people and sharing the knowledge is a huge way to inspire people to creating a healthier lifestyle for themselves.  Making food does not need to be complicated to be delicious, fun and healthy.  Sarabeth believes in a whole system diet which allows a deep exploration into preparing food using animals harvested from the farm, fermenting foods, and using as much of each food source as possible, whether it be an animal or plant.  
Sarabeth spends her free time making new food creations with her friends and family, cruising around with her dog Daisy and having impromptu dance parties in her kitchen!    Those that know Sarabeth, see her playful goofy sprit, which puts people at ease and allows those learning from her to feel confident, no matter what age or background they come from.  Sarabeth is extremely excited about a new venture into virtually sharing her life with others and is confident of inspiring a greater audience to have fun with making healthy food daily.