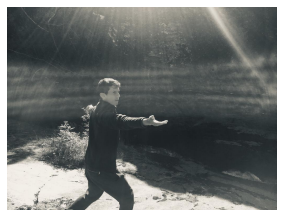 Spectrum of Touch
A journey into the depths of yourself
through Ancient Embodied Touch
Led by Gabriel,
Ke Ala Hōkū - The Pathway to the Stars -
Accredited Massage Practitioner
Join me for a 3-day workshop where you will deeply explore various
levels and spectrum of touch & yourself through principles based on
Indigenous World View. These principles are designed to enhance
your practice and can be applied to any massage modality. Explore
embodiment exercises that inspire new possibilities for a greater
healing and resonant experience. Transform your life and those you
touch.
Dates: Friday, 1/20 (6pm - 10pm)
Saturday, 1/21 (10am - 6pm)
Sunday, 1/22 (10am - 6pm)
Price: $595 (Before January 1, 2023 = $500)
Location: Yoga Pavillion (123 Bird Street, Nashville)
The three-day workshop is for massage practitioners & therapists of all levels; from
those just starting their massage practicums in school to the seasoned veteran. We will
explore your bodywork & inner-self through Indigenous world view based principles.
These principles can be applied to any massage modality. As you embody the
principles, your massage techniques will evolve. Your own life will begin to transform as
well, which can lead to a greater healing and transformation of yourself and your
clients.
Dates: Friday 1/20 (6 PM - 10 PM)
Saturday 1/21 (10AM - 6PM)
Sunday 1/22 (10am - 6pm)
Price: $595 After January 1, 2023
$500 Before January 1, 2023
Location:     Yoga Pavillion (123 Bird Street, Nashville)
***Be aware that during this workshop you will be asked to look at the depths of
yourself in various ways. Different thoughts, feelings, and emotions may arise during
the process. This is all a part of the journey. You will learn how to navigate what arises
within you during the exercises and your massages through the embodiment of the
principles based on Indigenous world view. They are a very integral part to the journey
before you touch another person.
This work is designed to...
1. Deepen, expand, and refine your current techniques and practices.
2. Open up a reservoir of massage possibilities become available to you.
3. Integrate the awareness of your body, emotions, and habitual patterns.
4. Create a deeper relationship with yourself.
5. Open new emotional, physical, and neural pathways.
6. Create new depths of listening through the body.
7. Shift your internal resonance affecting all those you touch.
Here's a sample of a 3-day workshop (subject to change)
DAY 1 INTRODUCTION
6-10pm
Introduction to Indigenous world view, breathing, movement, Principle of 'Ohana
DAY 2 EXPLORING THE SPECTRUM OF TOUCH AND YOURSELF
10am - 6pm
Intermediate breathing & movement, Introduction to Ancient Embodied Touch, Lunch,
Practicum, Principle of Internal Navigation, Practicum II
Day 3 MOVING AS ONE
10am - 6pm
Continuing breathing & movement, Ancient Embodied Touch, Lunch, Practicum III,
Principle integrating Indigenous world view, Final Practicum
PLEASE BRING THE FOLLOWING ITEMS WITH YOU
1. Journal
2. Pen or Pencil
3. Pillow/Bolster
4. Water bottle
5. Massage table or Thai Mattress
6. Linens for 4 different practice sessions
7. Neutral oil or cream (no scents, please)
8. Clothing you don't mind getting a little sweaty or oily in.
9. Support cushions/towels for your massage, if needed.
Register at gabriel@spectrumworkshop.com or if you have any questions I can also be
reached by phone at +1.323.840.5044.